The Best Wedding Show in Montreal :: Lots of Food and Underwear
Events , March 25, 2014
Every year Maddy K puts together a wedding show like no other. It's called the Bridal Boudoir Affair, but don't let the name throw you off. Yes, there is a lot of lingerie, but it's mostly a show featuring wedding vendors selected by Maddy K, a high end Montreal wedding planner.
I like attending wedding shows. Why? Mainly for free food, haha. Most shows feature a lot of cake designers and they often have a ton of cake samples. Yes, my sweet tooth resurfaces! Last year I attended the Bridal Boudoir Affair for the first time expecting a similar fair, however, my expectations were blown through the roof! There was SO MUCH FOOD! Maddy K brings in the best caterers in town and they love to impress. I took my wife and my one year old toddler, Emma. We stuffed our faces until we couldn't move. Emma was toddling around holding a lamb chop and chomping down on it. Needless to say, we had a blast.
This year, I was accompanied by my fellow photographer friend, Chris Paine. I hyped up the food aspect so he was easily convinced to join me. At first entrance there is the "Men's Lounge" featuring men's clothing, MontBlanc watches, and of course food. Nicolina Servello serving some roast beef sandwiches and Choice Harbour's Oyster Bar.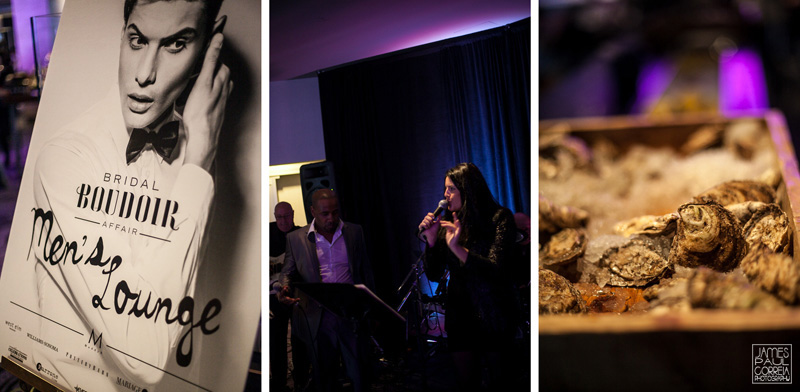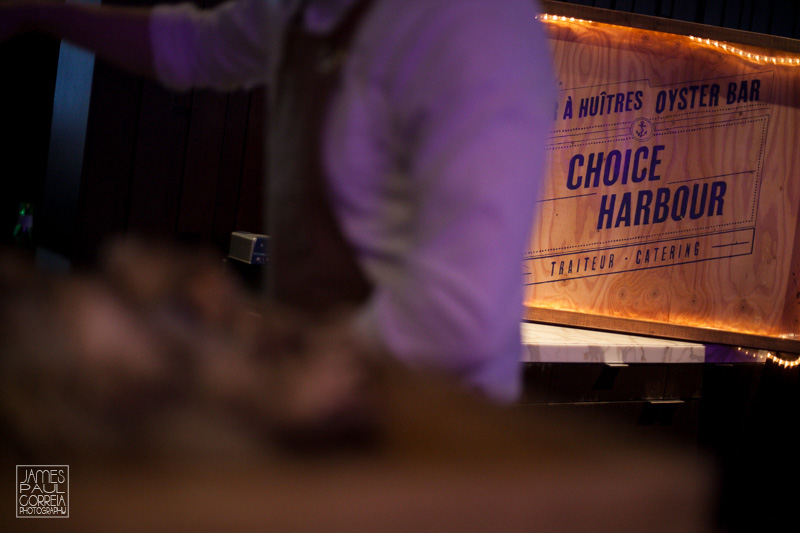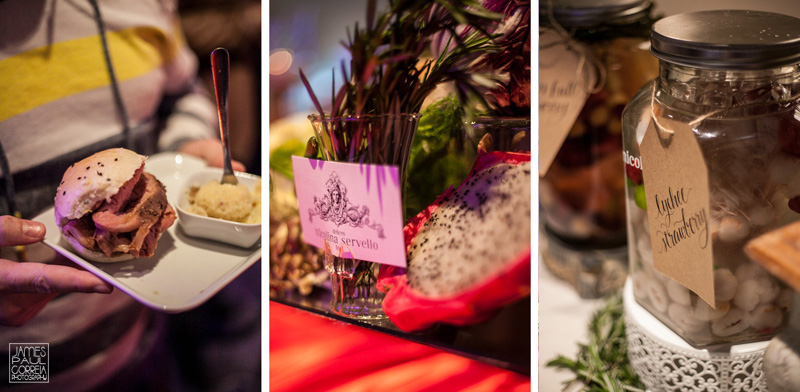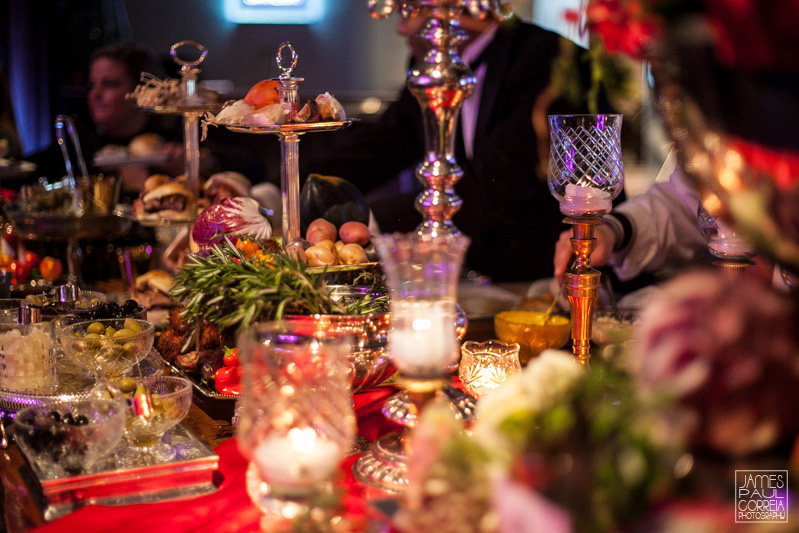 As we continued along, we sampled charcuterie, cream puffs, and fresh pasta from Traiteur Madalena. Appetizers from Buonanotte and Miss Pret a Manger, detoxifying juices from Joys of Living, and delicious yogurt from CULT Yogourt.



Don't worry, I'm almost done talking about food. There is actually more to the show than food, but my mind gets fixated.
Lastly, I wanted to mention Rustique Pie Kitchen. Julie and I recently discovered them at random and fell in love with their pies (Julie's favourite is blueberry). When I saw their table the salivatory glands immediately opened. However, no one could touch them until the end of the show and I, unfortunately, had to head back home before then. Until next time Rustique! Trust me, you have to head over to their store and pick something up.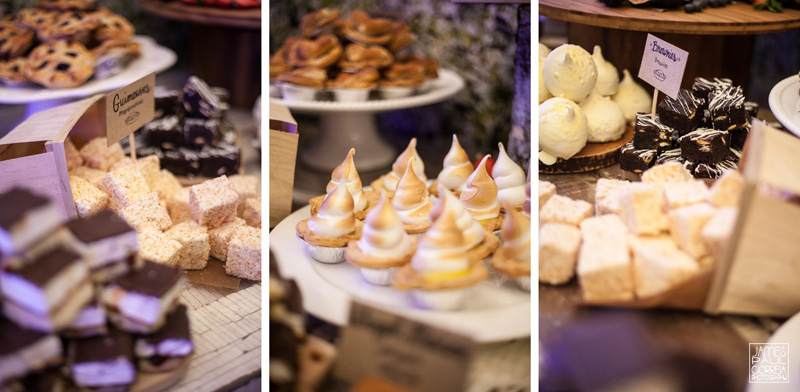 So what else does the show have to offer?! Well, there are the vendors. Some of the best talents in Montreal. It's not a large exhibition, just a few vendors that Maddy K had worked with. I knew a lot of them from previous weddings so I had to drop by to say hi. Let me introduce you to some of them!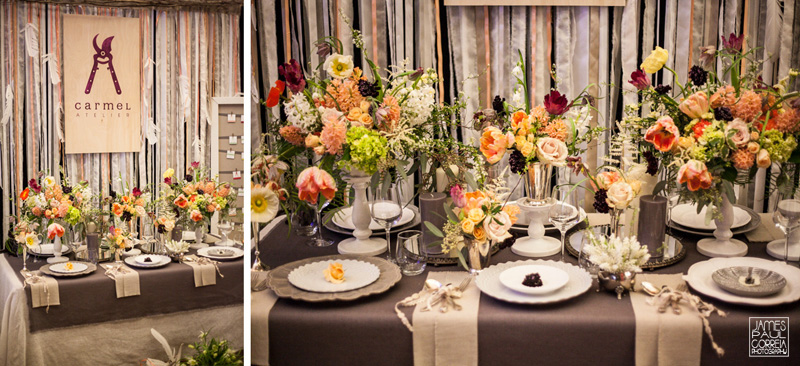 Carmel is not just a florist, but also a design and decor extraordinare. Her booth at wedding shows are always the best. If I ever decide to do a show, I'll have her design my booth.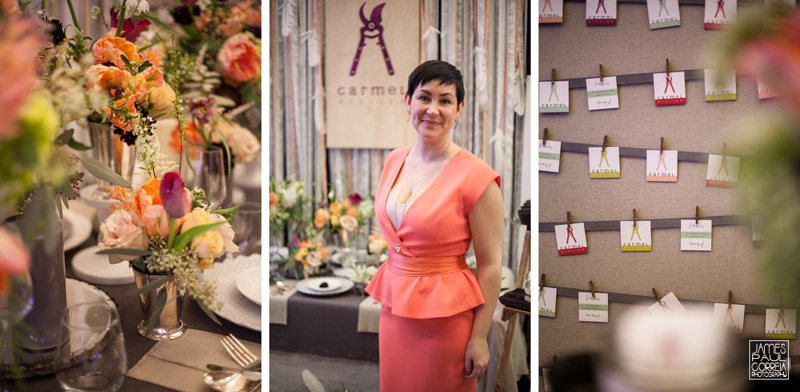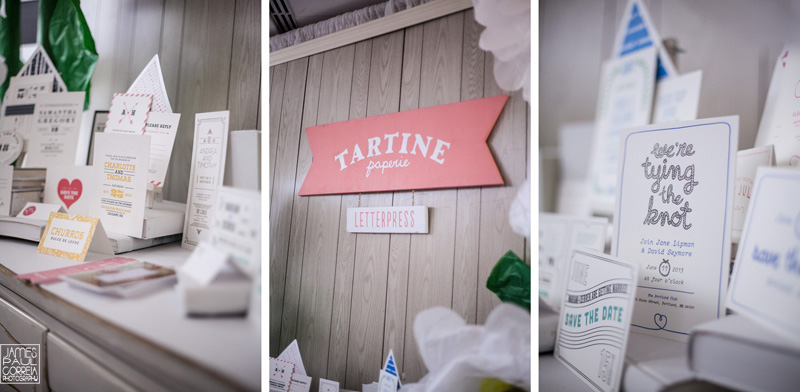 Tartine Paperie was founded by Mark and Stefanie. They design and print amazing letterpress invitations. I love their contemporary style. Every design is unique, simplistic and eye catching.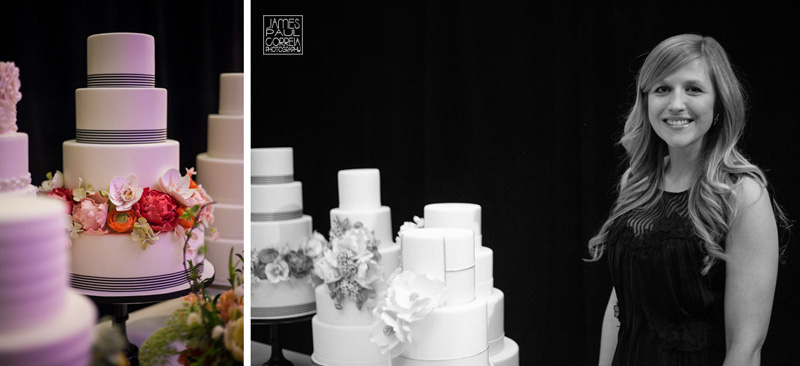 Luisa Galuppo makes one of the best cakes in Montreal. What I like best is that her cakes are classic. No cheesy designs. They're also made to perfection. Chris and I were talking about cakes and how jagged or tilted lines drive us nuts. Luisa's lines are ridiculously straight and tact sharp!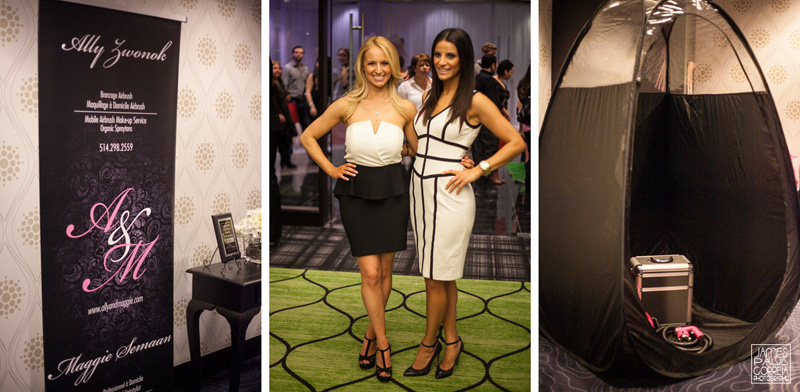 Ally and Maggie are the Dynamic Duo of the hair and makeup world. I first met them at a wedding last year and I loved how they are always having fun on the job. Ally specialized in mobile spray tans and air brushing techniques. Definitely my go to duo when asked for a referral.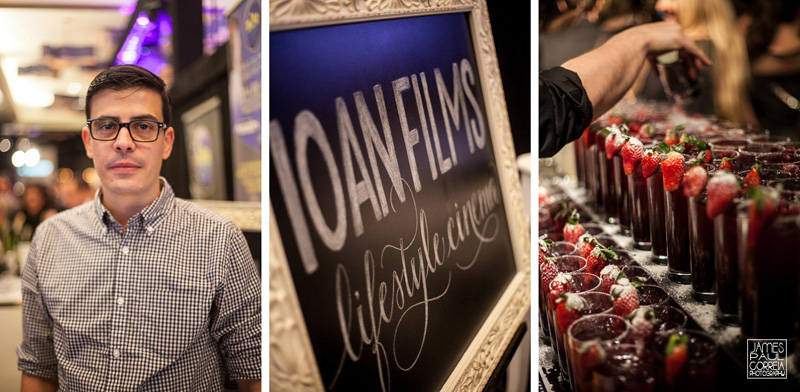 Robert Cato of Ioan Films is an amazing cinematographer. He has a great eye for video and has a more photo journalistic lifestyle approach which I love. I also love following his instagram feed featuring incredibly cute photos of his kids. Almost as many kid photos as my feed. 😉
The last photo is of the killer cocktails by Brahm Mauer Bar Services. They do a ton of events throughout the year, including the Charity fund raiser for Cancer research I covered last year. Best employees and drinks every time.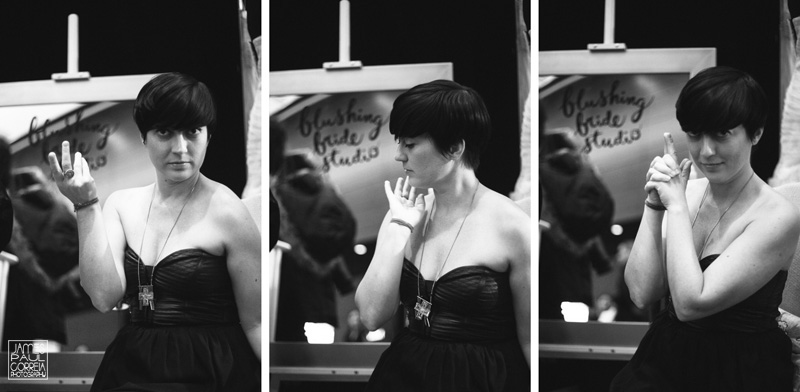 Chelsea is the brains behind Blushing Bride Studio and fellow Montreal wedding photographer. She is blast to hang out with, behind and in front of the lens. She is also a fan of Pandas.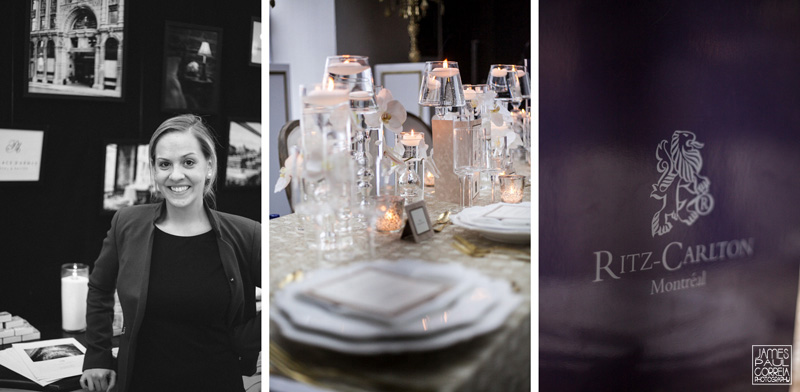 Two venues that I love to shoot weddings at are the Ritz Carlton and Hotel Place d'Armes. I love the Ritz mostly because I can walk home after a wedding, but it is gorgeous. Last year I did Zari & Pedro's wedding there. Place d'Armes is perfectly located in the Old Port and Marie-Michele (in the photo) does a spectacular job. It was the first time I met her, but when I mentioned I did a wedding there 2 years ago she asked for the name. I gave the first name (Janet's wedding) and she immediately knew the last name. What a memory! Very indicative of how much she cares about each wedding.
Of course, there are a number of tables set up to show off some spectacular decor ideas. Here are a few examples from Joe's Prop House, Charlotte Lefebvre and NDG Florist.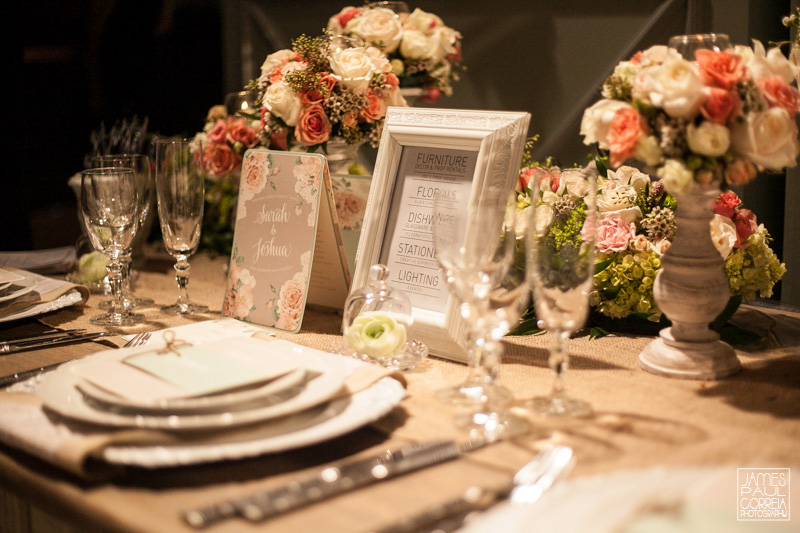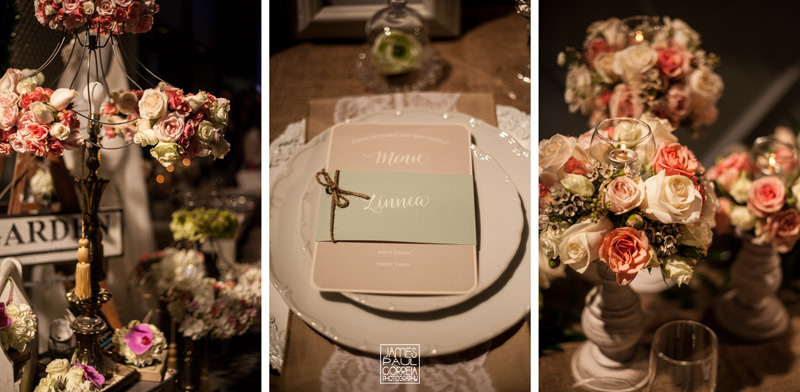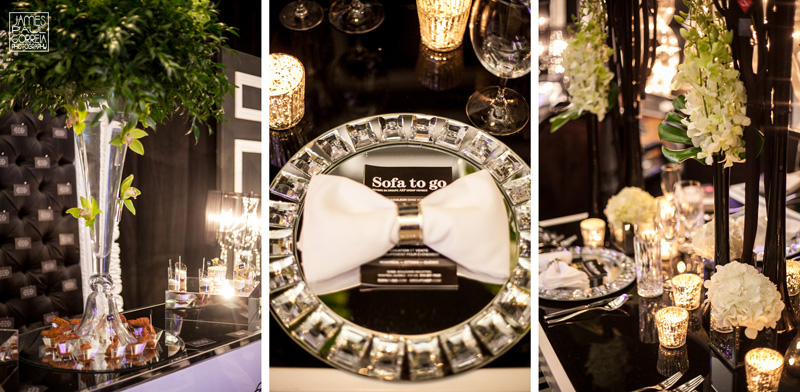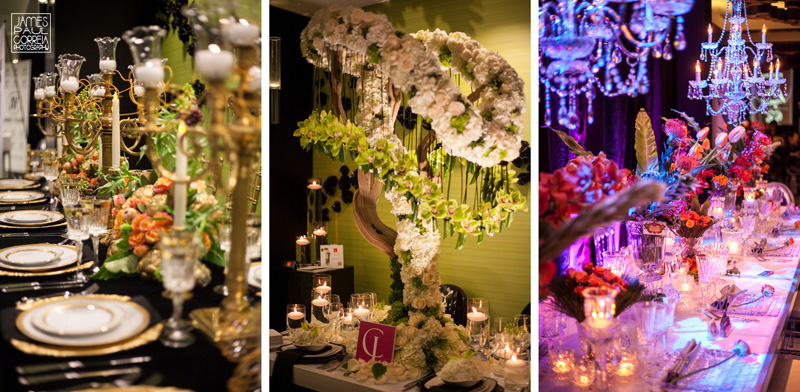 Lastly, the main attraction was the fashion show, featuring a boudoir segment along with a bridal gown segment. A little something for everyone!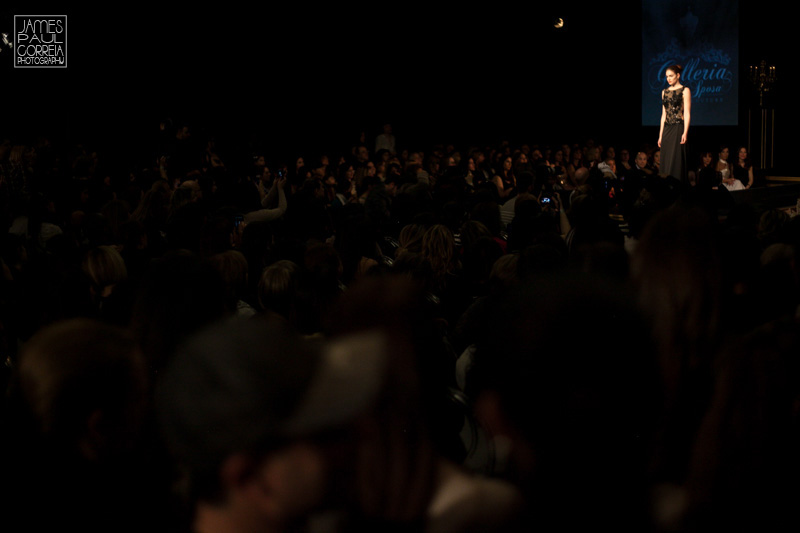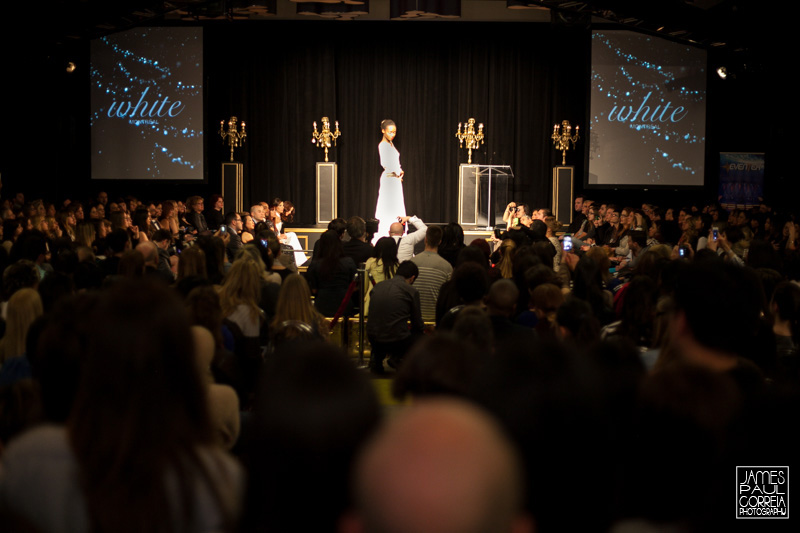 Keep your eyes open for next year! If you need a reminder, I'll announce it on my facebook page, so be sure to follow. We can all chow down together, the more the merrier 😉