Engaged! :: Andrea + Shawn
Engaged , July 23, 2011
Suzy sent Andrea and Shawn my way shortly before her own wedding. Although we attend the same church, we've never known each other; meeting new people is definitely one of the best parts of doing what I do.
Shawn is attending med school in Ottawa, so I can imagine how difficult it can be to plan a wedding from a far. Julie and I planned our Toronto wedding from Montreal, which made things a little more fast paced, but at least we were in the same city together. Shawn gets to Toronto as much as he can, as do I, so luckily we were able to all be in one place and the same time for an engagement shoot. You can always count on Canada Day long weekend. However, the long weekend also brought a heard or people to the park we shot at. We headed over to the Hamilton Conservation Area (Spencer Gorge and Webster Falls) on probably the hottest day of the year to that date. It was scorching!
The first time Andrea and Shawn were there, Andrea made the comment that it would be a beautiful place for a proposal (*wink* *wink* *nudge* *nudge*, haha). Shawn, being the sweetheart he is, took note and sure enough the next time they were there, he popped the question! I love it when couples pick locations that have a strong meaning to them; makes it all the more special.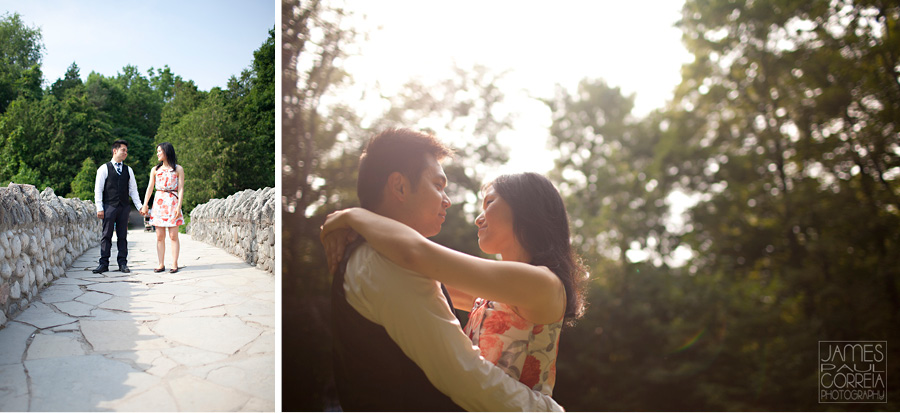 Shawn was all draper in his suit … maybe regretting it due to the heat, but he gets points for the effort.
Looking forward to your wedding next year!!