Reema + Joe | Day 2 : Head Over Heels
Just last week I introduced Reema and Joe with the first day of their wedding double header. Now we move on to day 2 with their big Italian wedding!
Unlike the previous day, we had the opportunity to shoot some creative portraits in Kleinburg, a cute little town north of Toronto. Colourful leaves and antique houses made for the perfect backdrop. We were also able to squeeze in some photos with the entire bridal … largest bridal party I've had so far!
The day ended at Riviera Parque for the reception, where things started to get a little wild, haha. It was the first time I saw the tradition of greeting guests with a shot of liqueur. It immediately livened everyone up and created a fun atmosphere. I instantly knew it was going to be a wild night. Here are some of my favourites: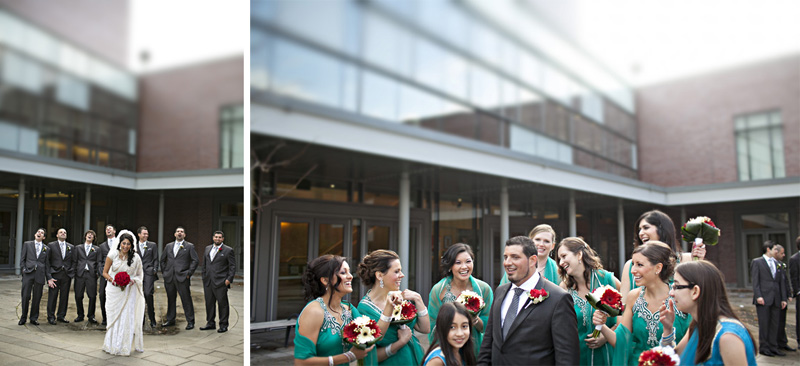 As I mentioned in the previous post, Joe was a huge WWF wrestling fan. Naturally, Joe had a brilliant idea for the bridal party's grand entrance … WWF character entrances (Razer Ramon, Shawn Michaels, etc.). Joe got to be his favourite character.
Ketan followed his stunning performance on Day 1 with another show, including some Gangnam Style, which I got on video (stay tuned to my facebook page to see it).
A friend of Reema does a great apple juggling show … I guess you had to be there, haha.
Congrats to Reema and Joe! It was great being a part of the huge (and lengthy) celebrations. I had a fantastic time and I can't wait to see you both again! Long live the 80's!!!!!!!
Photographer: James Paul Correia Photography (assisted by Andrew Ho)
Venue: Danny Boni of Riviera Parque Banquet Hall
Videographer: Eugene Lo of Cinematic Weddings. Check out their fantastic video of the pre-wedding events
Hair & Makeup: Pamela Brij and Mindy Bharji of BeautyBliss
Florist: Fancy Florists
Decorator: Diana D'Silva of The Diar Collections
Wedding Cake: Cathy of CC Creations
DJ: Silvio Carnavale of National Entertainment Group
Brides Wedding/Reception Outfit: Bunty of Blue Peacok
Bridesmaids/ Groomsmen Outfits: Anju of Kaveri Kollections
Groom's Outfit: Harry Rosen